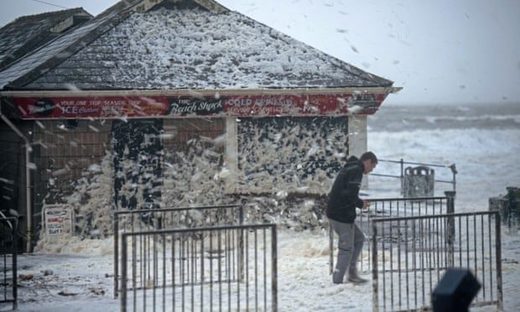 Hurricane-force winds have rocked Britain's transport network, causing the cancellation of trains, flights and ferries and prompting warnings of power cuts and a risk to life from falling debris.
The arrival of the weather front known as Storm Ciara, along with heavy rain and winds of more than 80 miles per hour, also comes with a heightened risk of flooding.
Heathrow airport said it had agreed with airlines to "consolidate" the flight schedule in a bid to minimise the number of cancelled flights.
British Airways was offering rebooking options for customers on domestic and European flights flying to and from Heathrow, Gatwick and London City while Virgin Atlantic also posted a list of cancelled flights on its website.
At least 10 rail companies sent out "do not travel" warnings, and nearly 20 others have told passengers to expect delays as strong winds were expected to damage electrical wires and clutter train tracks with broken tree limbs and other debris.
Rail companies issuing warnings against travel included Gatwick Express, Great Northern, LNER, Northern, Southeastern, Southern, Thameslink, Grand Central Hull Trains and TransPennine Express.