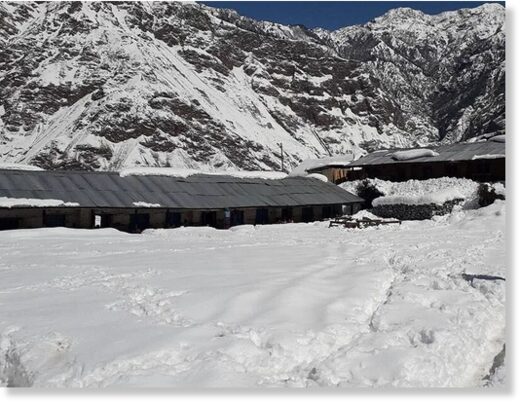 Snowfall that occurred in many places in the mountainous and high hilly region of the country since Sunday evening, has affected the normal life.
A report from Phungling in Taplejung district of Province 1 stated that heavy snowfall since Sunday evening has led to a sharp drop in mercury in the mountainous region.
Heavy snowfall was witnessed at Ghunsa and other areas in Phaktanglung Rural Municipality which is situated at an altitude of 3,400 metres.
Although moderate snowfall started occurring in Ghunsa area from the last week alone, last night saw heavy snowfall which has affected the normal life in the areas, said Pema Sherpa, a local.
He shared that people have not been able to go outdoors due to the snowfall and accumulation of thick snow outside. The children and the elderly people have been affected the most due to the freezing cold, he added.