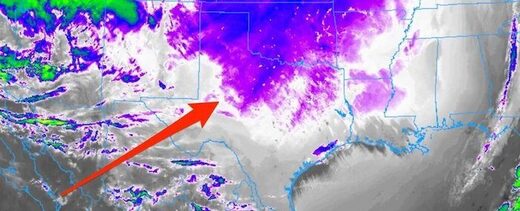 The severe winter storm raging through the southern US brought such extreme cold that it confused weather satellites monitoring the situation.
On Tuesday, the cold air advancing south from the Arctic chilled the ground so much that
one monitoring satellite mistook the ground for tops of clouds,
which are usually much colder than surface temperatures. The phenomenon was first
pointed out by Washington Post meteorologist Matthew Cappucci
.
A similar effect was seen over Canada on February 10, where
it was highlighted by the local news channel WROC TV in Rochester, New York
.
The satellite in question is called GOES-East.
It uses infrared sensors to measure temperatures at the top of clouds to plot them. Typically, the clouds are colder than the ground surface. The satellite's algorithms use this assumption to outline cloud cover from space, even at night.
Capucci tweeted a video illustrating the effect: