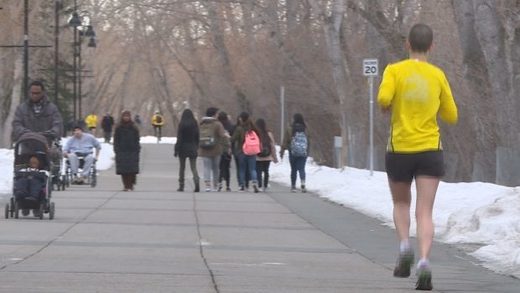 Hot enough for ya?
Wednesday's high of 16.4 C in Calgary broke a century-old record, beating the previous mark of 15.6 C set in 1916.
"Right now we have an upper ridge that's sitting overtop of Alberta, and that's brought in lots of warm air and kept our temperatures up for the last couple of days," said Brenda Niskaaro, lead meteorologist with Environment Canada.
That upper ridge is expected to start moving east on Thursday, taking the heat with it.
"Things will cool off by a couple of degrees for [Thursday], and by the weekend, Saturday, we'll have a cold front that will be moving through as well and that will bring temperatures back down to around the freezing mark."
Temperatures in Calgary have seen large swings in recent days. Just last week, on Feb. 7, the city saw a high of - 20 C, quite a contrast to this week's warmth.
"It's pretty normal for us to have really cold temperatures and to have really warm temperatures," said Niskaaro. "And once we do, with the systems moving slowly, they can last a week or two."