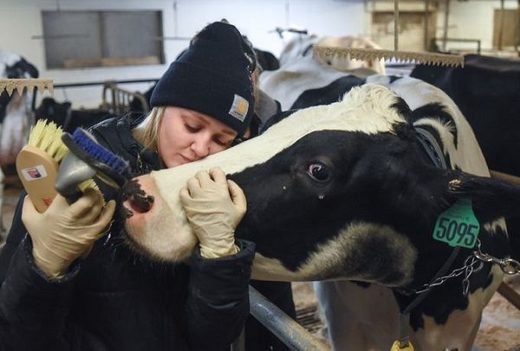 First, there were therapy dogs in local schools. Then there were yoga goats on local farms. Now, a herd of dairy farm cows has gone back to school - to help college students de-stress before their tests.
This month, the
Lansing State Journal
reported on a new program at Michigan State University allowing students to brush dairy cows to chill out during final exams week.
PEOPLE reached out to Andrea Meade, Farm Manager at the Michigan State University Dairy Cattle Teaching and Research Center, to learn more about this unique human-animal bonding experience. She had been looking for ways to get students outside the College of Agriculture and Natural Resources aware of the dairy farm. Meade was also particularly keen on finding "a new way to utilize the herd."
"I have been following other trends in agriculture like 'goat yoga' and wanted to see if any MSU students would be interested in a similar experience," says Meade.