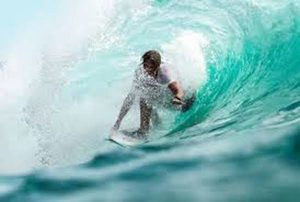 Our bodies remember
trauma
and abuse - quite literally. They respond to new situations with strategies learned during moments that were terrifying or life-threatening. Our bodies remember, but memory is malleable. The therapeutic practice of
somatics
takes these facts - and their relation to each other - seriously.
Imagine yourself surfing. Whatever your level of skill, a wave is a threat and an opportunity. Your body will respond, partly based on
memories
of other waves, other moments of danger or opportunity. Like life, your board and the ocean require certain things of your body: straddle, yoga pose, push up, stand, ben knees, arms at the just right angle. Maybe you're alone or maybe vying with other surfers for the same wave. You'll feel a bunch of emotions, and they will be embodied in your stance, in your muscles, your nerves, your breath. Whether or how you ride the wave will be a result of how you embody your history. The same goes for other surfers vying for that wave. After all, we are social organisms. These are premises of somatics, a set of practices designed to help people coordinate their emotional, physical, and intellectual responses to the past into new ways of being.