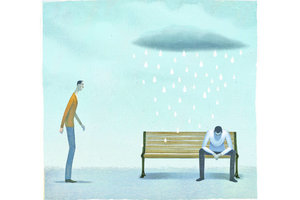 Everywhere you turn in American politics, leaders talk about the need for empathy. The best-known instance, of course, comes from Bill Clinton, who told an AIDS activist in 1992, "I feel your pain." But it's also been a recurrent theme in the career of Barack Obama, who declared in 2007 (while still a senator) that "the biggest deficit that we have in our society and in the world right now is an empathy deficit."
And it isn't just a liberal reflex. A few months ago, George W. Bush
spoke at a memorial service
in Dallas for five slain police officers and said, "At our best, we practice empathy, imagining ourselves in the lives and circumstances of others." As a candidate, even Donald Trump asked Americans to identify with the suffering of others, from displaced Rust Belt factory workers to the victims of crime by undocumented immigrants.
Though there are obvious ideological differences over who deserves our empathy,
it is one of the rare political sentiments that still command a wide consensus
. And that's a shame, because
when it comes to guiding our decisions, empathy is a moral train wreck. It makes the world worse.
When we have the good sense to set it aside, we are better people and make better policy.