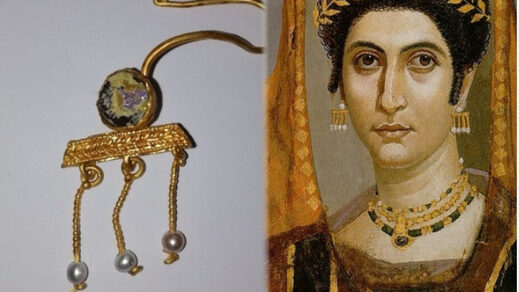 An actual ancient gold earring which can be seen depicted in some of the so called Fayum Mummy Portraits from Roman Egypt has been discovered in Southeast Bulgaria by archaeologists excavating the Ancient Roman colony
Deultum
near the town of Debelt, Burgas District, close to the Black Sea coast.
Deultum
was a Roman colony, which according to Roman law signified a status equal to that of the city of Rome itself. In today's Bulgaria, there are only three Roman cities which enjoyed this status - Deultum (Colonia Flavia Pacis Deultensium) near Burgas,
Ratiaria
(Colonia Ulpia Traiana Ratiaria) near Archar,
Ulpia Oescus
near Gigen.
Fayum mummy portraits are portraits on wooden boards which were attached to the mummies of upper class residents buried in Egypt during the Roman Era, in the 1
st
century BC - 3
rd
AD.