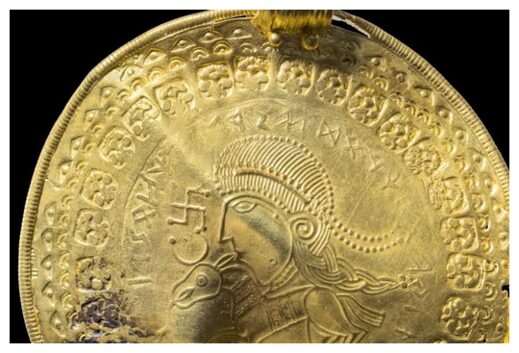 Scandinavian scientists said Wednesday that they have identified the oldest-known inscription referencing the Norse god Odin on part of a gold disc unearthed in western Denmark in 2020.
Lisbeth Imer, a runologist with the National Museum in Copenhagen, said the inscription represented the first solid evidence of Odin being worshipped as early as the 5th century — at least 150 years earlier than the previous oldest known reference, which was on a brooch found in southern Germany and dated to the second half of the 6th century.
The disc discovered in Denmark was part of a trove containing about a kilogram (2.2 pounds) of gold, including large medallions the size of saucers and Roman coins made into jewelry. It was unearthed in the village of Vindelev, central Jutland, and dubbed the Vindelev Hoard.
"It's one of the best executed runic inscriptions that I have ever seen," Imer said. Runes are symbols that early tribes in northern Europe used to communicate in writing.