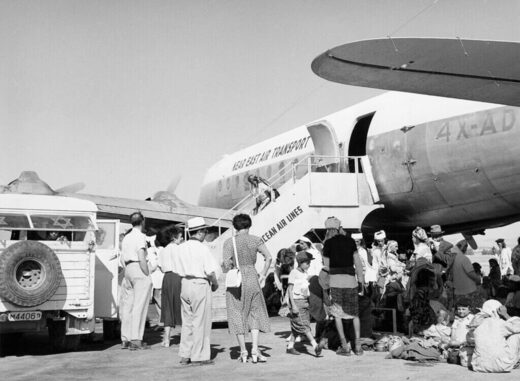 Zionists deny that Israel had any part in the ethnic cleansing of Iraq's Jews in 1950 to encourage Jewish immigration to Israel. But a core aspect of their exodus is omitted: the role of the Israeli airline, Near East Air Transport
In 1951, an Iraqi court determined that the main perpetrators of a series of attacks on Baghdad's Jews were Zionists — not, as it was intended to appear, their non-Jewish countrymen. But it was by then too late to stop the goal of the crime: the ethnic cleansing of the city's ancient Jewish community, in order to ship as many of its people as possible to Israel — "as cannon and demographic fodder" for the state, in the words of ex-Hagana member Hanna Braun, who once had the task of receiving them.
[1]
As a bonus, the false-flag attacks reinforced the core construct upon which Zionism depends: that the world is an irredeemably dangerous place for Jews.
There remains today among the Zionist movement the utmost vested interest in preserving the belief that the ethnic cleansing was the work of Baghdad's non-Jews, or the "Arabs," as Western parlance likes to frame it.
If the public knew it was Israel's crime, the ripple effects would cut far beyond the scandal of Iraq; they would force the question of Israel's and Zionism's very claim to exist for the benefit of Jews.