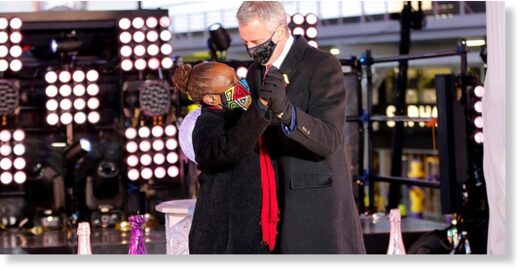 Below is my column in the Hill on the rise of delusional politics in America — a problem captured vividly on New Year's Eve as Mayor Bill de Blasio dancing with his wife to a virtually empty Times Square. This is not
Chicago
where Sinatra sang about seeing a "guy dancing with his wife." It is New York and the only one dancing seemed to be de Blasio.
We are watching as
both parties seem blissfully and utterly detached from reality.
Here is the column:
At midnight at the start of the new year, if you listened hard, you could almost hear the teeth of an entire nation grinding, or at least of those watching coverage from New York as Mayor
Bill de Blasio
danced in a nearly empty Times Square. Millions watched as he dipped his wife in a romantic flourish to Frank Sinatra singing "New York, New York." At least
Nero made his own music
.
The scene drew angry rebukes. Andy Cohen said it made him feel sick.
"I did not need to see that at the start of 2021. Do something with this city! Honestly, get it together!"