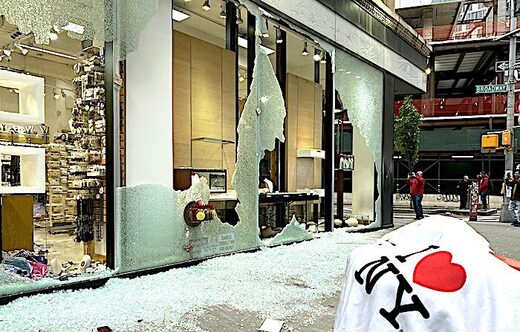 One year ago, parts of New York City felt out of control as crowds of looters were seen smashing storefront after storefront. The mayhem continued night after night from late May into June. At one point, there was even a so-called "looting dance party" on the
streets of SoHo
.
The mobs seemingly pillaged at will. Many were caught on tape, some with their faces visible. Others even posted on social their own videos of their actions those nights.
"We got the Rolex store," some in the crowd can be heard screaming in one video. Police were far outnumbered and seemingly unprepared.
Hundreds of arrests were made during the looting and riots. Many of those arrests took place in Manhattan and along some commercial streets in the Bronx where the problems were widespread.
Surveillance videos show looters breaking into many locally owned Bronx stores, stores that were left ransacked.
NYPD data reviewed by the NBC New York I-Team shows
118 arrests were made in the Bronx during the worst of the looting in early June.
Since then, the NYPD says the Bronx DA and the courts have dismissed most of those cases - 73 in all. Eighteen cases remain open and there have been 19 convictions for mostly lesser counts like trespassing, counts which carry no jail time.