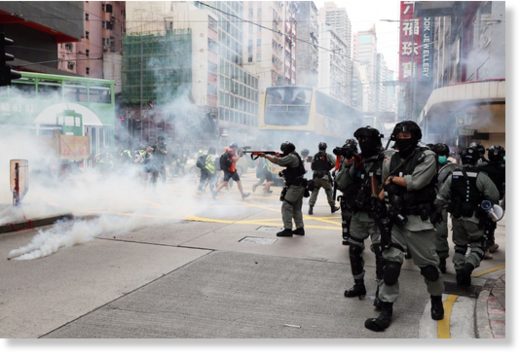 Police fired multiple rounds of tear gas in Hong Kong's Causeway Bay shopping district on Sunday as thousands took to the streets to protest against Beijing's
planned national security law
for the city, even as top Chinese officials sought to ease fears about its impact on local freedoms but remained stern about seeing it implemented.
Police said at least 180 people were arrested -
mostly on suspicion of unauthorised assembly, unlawful assembly and disorderly conduct in a public place
- in a crackdown as protesters spread out along streets of Causeway Bay and Wan Chai.
A water cannon truck was used and volleys of tear gas were fired in a series of confrontations as
some radicals among the protesters defying the government's coronavirus crowd restrictions blocked multiple roads, smashed traffic lights, lit small fires and hurled bricks dug up from pavements at police
.
Some also vandalised shops, while at least two people objecting to the roadblocks were severely assaulted by black-clad groups.
The protests erupted just hours after Chinese Vice-Premier Han Zheng, Beijing's top leader in charge of Hong Kong, told local delegates to the national legislature that
Beijing's determination to push through the national security law should not be underestimated, and that mainland authorities would "implement it till the end".