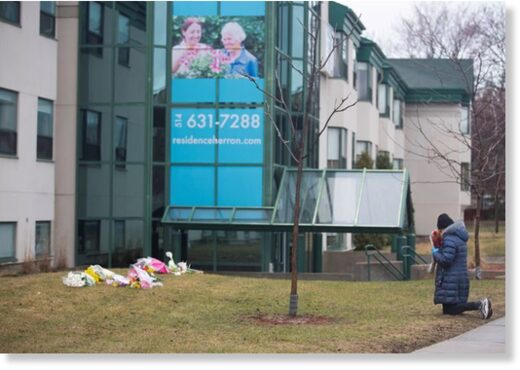 COVID-19 was repeatedly cited as a cause of death at the Herron nursing home
to obscure the fact that dozens of elderly residents died from thirst, malnourishment and neglect
, a Quebec coroner's inquest heard Tuesday.
In an emotional testimony, an auxiliary nurse recalled how the facility in Montreal's West Island was already poorly run before the crisis, how
most of its staff abandoned their posts when the coronavirus struck
, and how the local health authority then took over in a high-handed and inefficient manner.
She described discussions over
whether to triage residents in such a way that those who were dying wouldn't be fed
. And she recalled harrowing scenes: a woman's body left unattended in a room shared with her husband, and nurses quarrelling in front of grieving family members.
The auxiliary nurse testified at coroner Géhane Kamel's public hearings into 47 deaths at Herron, a part of an inquest into the high death toll in Quebec nursing homes during the first wave of the pandemic.
Quebec is the only province holding public hearings on COVID-19 fatalities in long-term care
, opening a rare window into a crisis that resulted in the deaths of more than 4,000 of the province's care-home residents in the spring of 2020.
A recurring theme in the auxiliary nurse's testimony was the lack of humanity afforded to dying residents and their relatives. One appeared to have died of thirst after being forgotten in his room. Another family received misleading information even as an elderly resident was dying.