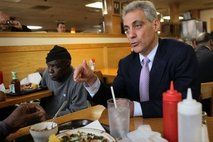 Former White House chief of staff Rahm Emanuel was elected as mayor of Chicago on Tuesday.
Emanuel, who will be succeeding the retiring Richard Daley, won over fifty percent of the vote with 86 percent of the precincts reporting.
The famously foul-mouthed Emanuel, 51, has been the clear front-runner in the race to run America's third-largest city ever since he resigned as White House chief of staff and moved back to Chicago in October.
His lead in the polls grew even as opponents dropped out of the once-crowded race to replace retiring Mayor Richard Daley, who has governed the Windy City for more than 22 years.
And so, in a move characteristic of rough and tumble Chicago politics, opponents tried to cut him off in the courts, saying he had abandoned his Chicago residency when he moved his family to Washington to work for Obama.