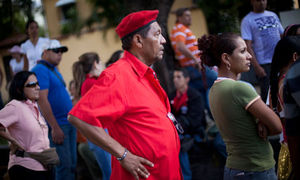 Move to exploit 'unused' land in capital rattles Venezuela's middle class, as troops also take over 'unproductive' farms
Hugo Chávez has sent out troops to take over farms and urged the poor to occupy "unused" land in wealthy areas of Caracas, prompting a wave of squats that is rattling Venezuela's middle class.
The move by Venezuela's president to step up the campaign to "recover" land and other property follows a housing crisis that has left millions of people in shabby conditions and affected his popularity in the run-up to next year's election.
Squatters wearing red T-shirts from Chávez's socialist party seized 20 spaces in a co-ordinated strike in the well-off Caracas municipality of Chacao last weekend, a move which shocked even some government supporters. Additional groups have targeted other cities.
Chávez has also announced a series of laws and deals with China, Russia, Belarus, Iran and Turkey, among others, in a breakneck effort to build 350,000 housing units in Venezuela in the next two years.