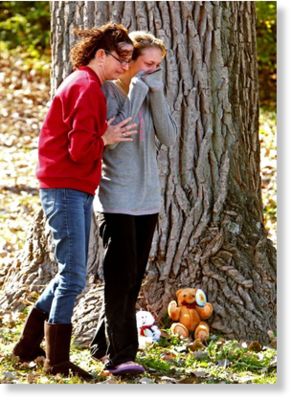 Prosecutors charged a 20-year-old suburban St. Louis woman on Wednesday with murdering her 13-month old son, saying she admitted she beat the boy because he was crying and "wouldn't lay down, wouldn't go back to sleep."
Shelby Dasher is charged with second-degree murder in the death of her son, Tyler, whose body was found discarded near a cemetery about a mile from home on Tuesday, hours after she reported him missing.
Dasher was arrested early Wednesday and was being held on $500,000 cash bond.
St. Louis County prosecutor Bob McCulloch said Wednesday that Dasher told police she repeatedly struck her son because he was crying and "wouldn't lay down, wouldn't go back to sleep." He said she also admitted she disposed of his body.
"Raising children can be frustrating. There are a myriad of ways to handle that," McCulloch said. "This isn't one of them."
McCulloch revealed little else about the boy's death, except to say it appeared the mother used no objects or weapons to strike her son.
Police said when Dasher called to report her son missing, she told them she overslept that morning and discovered him gone from his crib when she awoke.
People walking a dog discovered the boy's body later Tuesday near a cemetery and not far from a busy road.
Earlier Wednesday, detectives and uniformed officers came and went from the family's small frame home, which is in a working class neighborhood. Yellow police tape surrounded the home, and a large Halloween pumpkin was on the front porch.
A long, wide area near the cemetery was also cordoned off. A cluster of young adults nearby cried and hugged as they watched officers mill around the scene. It wasn't clear if they were relatives of Tyler, and they declined interview requests.
The body was found within about 100 feet of a busy road.
"It says to me it's a pretty sick person," Fitch said. "Anybody that would take a child and leave a child in a wooded area in that condition needs to be dealt with severely by the criminal justice system."
Johnny Ellington, whose 24-year-old son, Joe Ellington, is Tyler's father, said he knew little about the investigation beyond what had been reported in the news. He said his family had been questioned by police and that the family advised Joe not to talk to the media.
Johnny Ellington, 65, said his son and Shelby Dasher were never married, and that his family saw Tyler frequently.
"He was just a wonderful baby and beautiful boy," he said.
Neighbors described the area where the Dashers live as quiet, the people close. But several neighbors said they knew little about Shelby Dasher or her son because the Dashers had only moved into their rented home a little over a year ago.
"Everybody here kind of knows each other, but not them," said Rick Angeles, 28, who lives across the street with his wife and 3-year-old son. Angeles said a lot of young people were in and out of the Dasher home frequently but he never saw anything that concerned him.
Tim Adair was visiting his sister's home three houses down from the Dashers. He said Tyler's grandmother came over Tuesday, distraught, and told them the boy was missing. She said she had no idea where he could be.
"My niece gave her a hug and talked with her and prayed with her," Adair said. "I can't imagine how difficult this would be."