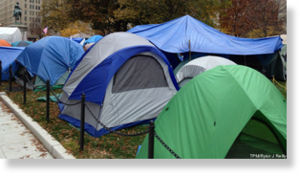 The Secret Service
announced
the suspect was taken into custody in Pennsylvania.
The Secret Service searched Occupy D.C. on Monday for a man suspected of firing bullets at the White House on Friday, one of which was stopped by the building's ballistic glass.
Protestor Ralph Wittenberg told TPM on Tuesday evening that
authorities came through "searching for a so-called terrorist who shot at the White House, with no warrant, they went into everybody's tents."
A person handling media requests for Occupy DC confirmed the searches and said they were led by the Secret Service. The agency did not immediately respond to a request for comment.
Police have been trying to locate 21-year-old Oscar Ortega Hernandez, a mentally ill man from Idaho who authorities say is connected to the incident, which apparently took place on Friday.
Agents began investigating after gunshots were heard on Friday night, but NBC Washington reports that agents didn't discover the bullets until Tuesday morning.
One bullet hit an exterior window of the White House but was stopped by the bulletproof glass behind the historic glass. An additional round was found on the exterior of the building, the Secret Service told the news channel. Authorities recovered an AK-47 rifle near the scene.
Strangely, the Secret Service says the agency isn't yet positive that the Friday incident is linked to the bullets found on the grounds of the White House.