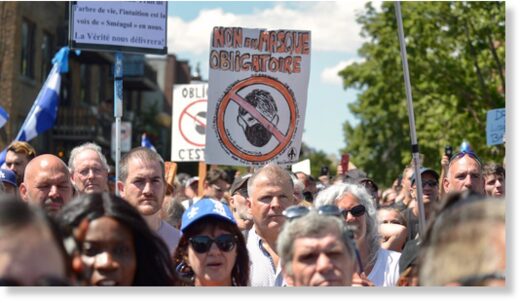 On August 8th, tens of thousands of citizens in Montreal took the streets to protest the draconian and unscientific push towards tyranny under the pretext of public health.
Legacy news outlets controlled by the globalist deep state either failed to cover this event,
or gave it a passing mention
, despite it being a tremendous outpouring
. Such manifestations, given that they have not been promoted or financed by corporatist oligarchs and their fake news media outlets, are a good indicator that tremendously more are, or have now, woken up.
Thousands of demonstrators marched through downtown Montreal last Saturday to protest against the Quebec government's mandatory mask regulations.
The protesters —
the vast majority of whom did not wear masks
— carried signs and wore t-shirts indicating a variety of motivations and ideologies in opposition to face coverings.
Some demanded freedom, some were critical of the Coalition Avenir Québec government, Premier François Legault or public health director Dr. Horacio Arruda, and others espoused various theories about COVID-19 and U.S. politics.
"I find it illogical," said Nathalie Warren, who travelled from Saint-Jean-sur-Richelieu, Que. for the protest.
"Say we go into a restaurant," she said.
"We walk in wearing a mask, because, what, COVID is there? Then we sit down and we can take the masks off because, what, the COVID is gone?"