Michael Tracey says mainstream media has overlooked those affected by summer's violence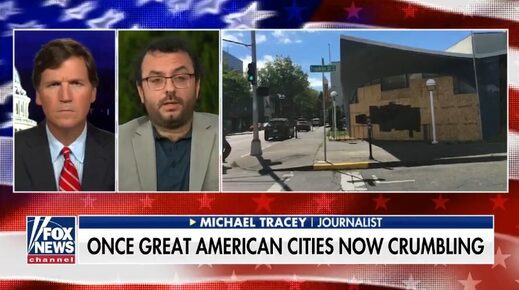 Mainstream media outlets have failed the public by declining to spotlight the devastation left behind by rioters in cities across America, independent journalist Michael Tracey said Tuesday on
"Tucker Carlson Tonight."
In a self-published article titled
"Two months since the riots and still no 'National Conversation,'"
Tracey traveled to cities affected by violent protests and documented his findings using photographs and conversations with store owners and residents.
"I wanted to see for myself how communities were dealing with the aftermath, what the attitudes toward what transpired were," Tracey told host Tucker Carlson. "I just wasn't really getting that toward the mainstream organs that you would expect to be covering a story of such reported significance.
"If you go to
The New York Times
, you go to
The Washington Post
or any of these other outlets,
it's not as though there is an easily accessible tally anywhere where you can find out what the precise quantification is of the amount of destruction that's being wrought in these purportedly historic events
," he added.