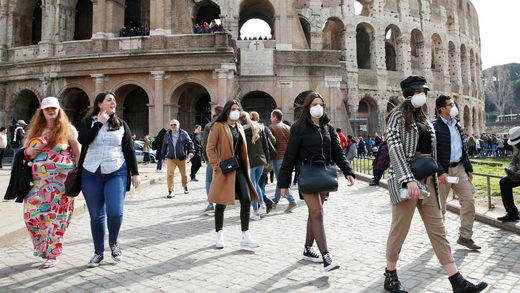 Italy's coronavirus outbreak spread south on Tuesday to Tuscany and Sicily, as the civil protection agency reported a surge in the number of infected people and the death toll rose to 10.
Officials reported 322 confirmed cases of the virus, 100 more than a day earlier. In a worrying development, they said
some of the new cases showed up in parts of
Italy
well outside the country's two hard-hit northern regions.
Tuscany reported its first two cases, including one in the tourist destination of Florence, while Sicily recorded three: all of them tourists from the worst-hit Lombardy region, where more than 200 people have tested positive.
The Liguria region, known as the Italian Riviera, also reported its first case, but cautioned that the definitive result for the 70-year old still needed to come from Italy's infectious diseases institute.
Officials also reported three new fatalities in Lombardy, bringing the total to 10. All three were elderly patients.