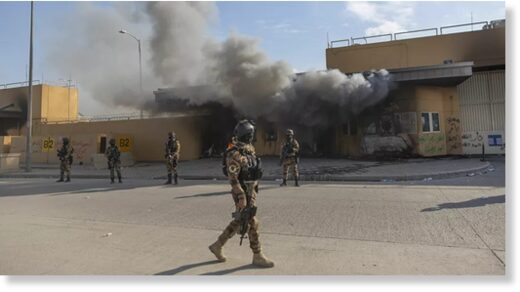 The US claims its jets raided the facility belonging to Iraqi militants, purportedly responsible for the February rocket attacks against American objects in Iraq, which claimed one life and left several US citizens injured. Washington insists that the attacks were sponsored by Iran.
One of the Iraqi militant groups, Harakat Hezbollah al-Nujaba, has said it reserves the right to attack the US installations in the country as a response to
Washington's bombing of the group's positions in Syria
, Nasr al-Shammari, deputy secretary-general of al-Nujaba, told Al-Mayadin TV channel.
Al-Shammari noted that his group al-Nujaba had had an agreement with the Iraqi government not to target American facilities, but stressed it was no longer the case.
"All previous agreements [with the government] have been annulled and the resistance now reserves the right to set its own goals.
The resistance, despite considering the US embassy in Baghdad as a den of spies, had agreed not to target it. From now on, it holds the right to attack US targets in this country," al-Shammari said.
The militant group representative also
demanded that Baghdad reveal the names of those who supposedly passed the information to the US, which helped Washington to carry out its raid in Syria
. Al-Shammari warned that otherwise if that information were not provided, the group would take matters into its own hands and punish those it believes to be responsible.