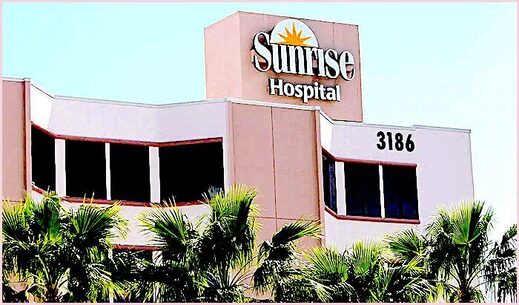 An outbreak of
Covid-19
among vaccinated staff at a Las Vegas hospital has highlighted the risks posed by the
Delta variant
in the US, as Nevada struggles with rising Covid cases and stagnating vaccination rates.
Eleven workers at the Sunrise hospital and medical center,
only one of whom was unvaccinated,
tested positive for coronavirus after attending a party in early June, hospital officials confirmed to the
Guardian.
None of the workers infected were hospitalized, nor were there any fatalities.
Sunrise's CEO, Todd P Sklamberg, said in a statement.:
"The Centers for Disease Control has confirmed that 11 of our colleagues at Sunrise Hospital tested positive for the Covid-19 Delta variant. All who tested positive are doing well and have returned to work. We want to acknowledge our colleagues recognized their own symptoms (similar to allergies or the common cold) and chose to get tested. There were no exposures to our patients as our staff complies with all PPE guidelines, masking at all times and wearing face shields with all patient encounters."
The outbreak, first reported by the
Las Vegas Review-Journal
, emerged amid growing concern in the US about
the Delta variant, which is now the dominant variant in this country.
Because the Delta variant is highly
transmissible
, authorities have said it's all the more important for unvaccinated people to get their shots, both for personal immunity and to prevent spreading Covid-19 to others.

Comment: The article just claimed that only one of the positive Delta-tested workers was unvaccinated.