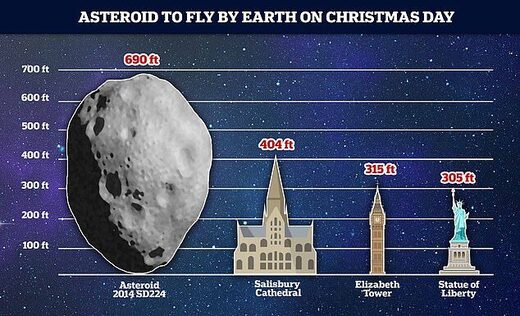 An asteroid bigger than the Statue of Liberty will fly past Earth at 8:20pm GMT on Christmas Day, according to data from NASA's Center for Near Earth Studies.
The asteroid, called 2014 SD224, will come within 0.02019 astronomical units, or nearly 1.9 million miles, from the Earth's surface.
2014 SD224 has a diameter anywhere between 302 and 690 feet (92 to 210 metres) - meaning it could be more than twice the size of the Statue of Liberty (305 feet) or bigger than Salisbury Cathedral (404 feet).
As 2014 SD224 flies past Earth, it will be travelling at a speed of 10 kilometres per second or more than 22,000 miles per hour - roughly 30 times the speed of sound.