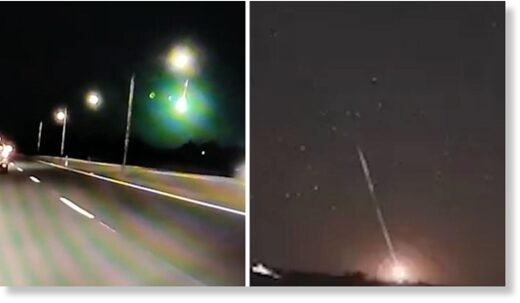 Queenslanders in the state's far north region witnessed an out-of-this world experience on Saturday night when a bright fireball-like object plummeted from the night sky.
In a blink-or-you'll-miss-it event, a suspected meteorite was captured descending from space emitting a white and orange glow, before appearing to crash.
The epic scene occurred at about 9.22pm and was observed across multiple suburbs spanning from Barcaldine in the state's far west to Cooktown in the far north.
Meanwhile Australians situated in other parts of the state recall seeing a "bright light" in the sky around the time the suspected meteor was observed in Queensland, however no official reports have been made.
"My partner could just see this last night on our drive home in Perth. Was wondering what it was," one woman reported on Facebook.
A Sydneysider added: "I saw a bright light last night couldn't work out what it was, perhaps this. I'm in Sydney south."
While the relevant authorities are still trying to determine where the meteor landed, reports suggest it crashed near the Croydon area after locals reported feeling their houses shake and hearing a loud bang.
"Following the light, Croydon shook with what can only be described as a sonic boom," one local commented on Facebook.
Several residents were lucky to capture the spur-of-the-moment spectacle on their phones and cameras, with many sharing their experience online.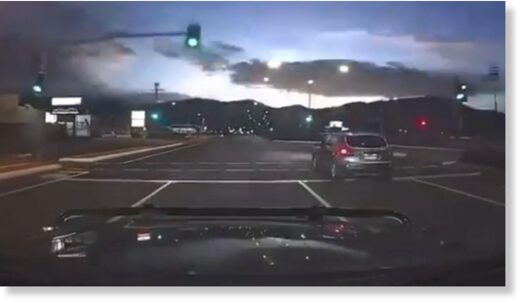 "Saw it at Mission Beach looking out to sea, amazing ... saw it light up the sky gradually building to basically daylight with a blue hue over say two to three seconds then culminating with a red flash on the horizon," another surprised viewer commented.
"Blessed to have been up and looking at the right time."
Meanwhile one family were either greeting or seeing off guests in their front yard when the meteor's hues lit up the sky.
"Woah," one woman could be heard saying as the starry horizon suddenly turned blue for one second.
In another video, a large group of people came to a standstill when the light crossed their path at Normanton Oval.
The meteor came crashing down as music from a band rang out, sending spectators into a nervous flurry before they were able to come to terms with what they had just observed.
"It was amazing. White, green and purple colours from my backyard in Trinity Beach," another witness reported on Facebook.
"Everything was visible like day time for one second, (including the) mountains. Amazing."
An amateur astronomer told the
Townsville Bulletin
he suspected the object was a "rogue meteor".
"It's not common at all, people who happened to see it should feel lucky," he said.
He estimated the meteor to be no bigger than a human fist in size that likely would have burnt up upon entering Earth's atmosphere.