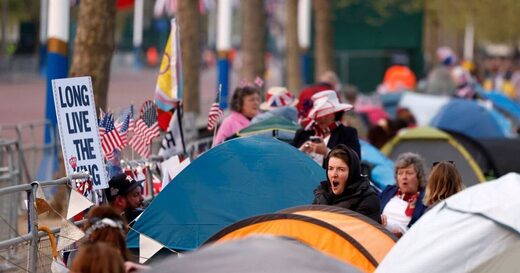 A huge bang was heard in Central London today as thousands of people start to gather for the King's Coronation, with speculation rife over what caused the mystery sound. There's no suggestion of any
emergency,
bu
t people in centre of the city reported hearing a huge bang at about 11.45am today (Friday, May 5).
One person wrote on Twitter simply asking:
"Anyone in
London
just hear that explosion?" Several people replied to say they had heard it too
with one saying they'd heard it in Marble Arch, right near the route of the
King's Coronation Procession
where crowds are already gathering and milling about ahead of tomorrow's festivities. However
there are also reports of a loud bang being heard in Brixton and Fulham
.

Comment: That's about 6.5 miles away.


Some have suggested it was thunder
,
with the Met Office forecasting rain and unsettled conditions
over the next couple of days. The forecast this afternoon is for
light rain with thunder expected from around 5pm
.

Comment: Which means the noise was heard prior to the expected weather.


Another suggestion was that it was a gun salute as preparations continue for the military procession however the Ministry of Defence has said it's not aware of anything that would account for it.
Thanks for following our coverage, which saw some mystery online around the reason behind a loud bang heard for miles across the capital. It is thought to just have been extremely loud thunder, without the prescence of rain for some areas of London.
No word yet on what could have caused the huge bang but it's pretty clear it wasn't anything untoward, just unexplained.
The Met Police and MOD say there's nothing they are aware of that would explain it.

Comment: So they didn't think thunder was a reasonable explanation?


The most realistic explanation at the moment seems to be isolated cracks of thunder, as there have been reports of it being heard in Central London, Brixton and Fulham.

Comment: It would be, however there are other phenomenon that could create a similar sound, such as a relatively small meteor-fireball exploding in the atmosphere, however it's a sound people aren't familiar with and so the likelihood of them identifying it as such is slim. It's also notable that some people dismissed the sound as being thunder, nor did they report hearing more thunder afterwards.


We're getting on to the Met Office to see if one of their meteorologists can explain if that's likely to be the case.
MyLondon reader Tyrone Woo, from Fulham, has got in touch in shock to learn that other people may not have heard the loud bang. He said:
"I heard a huge rolling sustained noise, not a bang -- typical of a clap of thunder. How can people nearer the sound NOT have heard it? If there was thunder there was no accompanying lightning before, during, or after the sound."
The unnervingly loud bang
, likely to be thunder, has understandably caused some alarm ahead of the coronation. Whether you are an avid royal fan set to be soaking up the 'corry-nash' vibes in Central London or just happy to have a long weekend, everyone will be hoping the bank holiday isn't a complete wash-out.
The huge event will attract huge media attention too - with a major operation by the british media around Westminster Abbey and the procession route and beyond to bring the public all the latest royal news. TV critic Scott Bryan wrote on Twitter:
"A large roar
of thunder
being heard throughout London less than 24 hours before a huge outside broadcast for the Coronation."
But it does look like we are in for a quintessentially British backdrop to the celebrations, with at least some rain expected.
Meanwhile, The Met Office's latest national weather report did predict thundery showers, which are "slow moving". This means the showers are in pockets - where some areas may have heavy downpours whereas mere miles away it is completely dry, even sunny. This may go some way to explain why Londoners in some areas heard the loud bang but did not suspect thunder given they were looking out of the window to bright sunshine.
People have taken to their keyboards to speculate about what the loud bang was, which was seemingly heard for miles. It seems
it was mainly heard in areas of South London - particularly Brixton, Kensington and Clapham.
The consenus on social media is that it was monumentally loud thunder. Someone who goes by @thegarethmclean on Twitter wrote: "Either the Death Star just blew up Clapham or that's some scary thunder and lightning in south London."
"South London just had an epically loud crack of thunder" someone else added.
It was definitely an isolated thunderstorm that you may have heard the remnants of, was chucking it down here in Clapham and the bang was really loud (weather app also says thunderstorm here but just drizzle in central London ) pic.twitter.com/gKbRSDjzWH

— Joey O (@JoeyO94) May 5, 2023
Ministry of Defence 'unaware' of any incidents
A Londoner speculated online that the sound might be practice for tomorrow's coronation, such as a gun salute.
Alternativey, th
ese loud sounds can be created by a sonic boom
.
A sonic boom is a loud, explosive sound caused by shock waves created when an aircraft or other object travels through the air faster than the speed of sound. Sonic booms are most commonly associated with supersonic military aircraft
, but they can also be produced by commercial aircraft.
However the Ministory of Defence (MOD) told MyLondon that there were unaware of any incident, such as a military aircraft, that could have caused the loud noise.
A Londoner took to Twitter to ask if anyone had heard an "explosion"-like sound in the capital at around 11:45am this morning.
While some said it was just thunder, others disagreed declaring that was impossible given it is "not raining at all". Someone else added: "No chance [it was lightning]. Lasted too long. And it's too sunny."