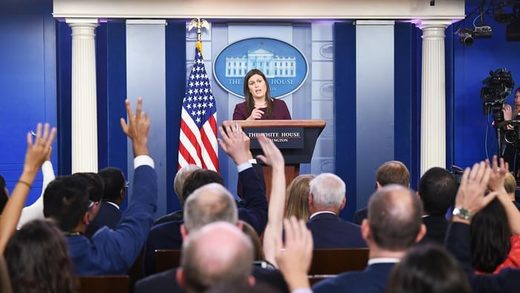 As the remarkable public spat between Donald Trump and former adviser
Omarosa Manigault Newman
continued on Tuesday, the White House was unable to guarantee that no recordings exist of the president using the "N-word".
At a White House briefing, press secretary Sarah Sanders was asked if she could say no such recordings would emerge.
"I can't guarantee anything," she said.
Sanders cited the president's tweets on the matter and said: "I can tell you that the president addressed this question directly." On Monday, Trump wrote: "I don't have that word in my vocabulary and never have."
On Tuesday morning, he added to earlier tweets when he
wrote
: "When you give a crazed, crying lowlife a break, and give her a job at the White House, I guess it just didn't work out. Good work by General [John] Kelly for quickly firing that dog!"
Manigault Newman, a former contestant on the reality TV show The Apprentice, is promoting
a
memoir, Unhinged
.
She has released
two secret recordings
related to her firing from the White House late last year and another related to the claims that Trump used the "N-word" during his career in reality TV.