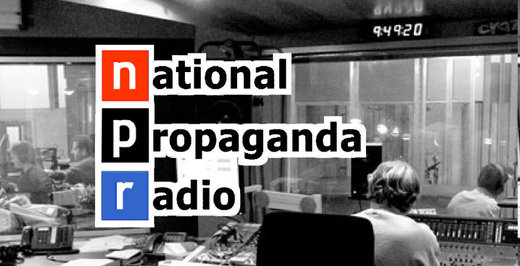 National Public Radio is one of the US's state media institutions, despite the protestation to the contrary.
It serves a critical role in providing left-cover for US imperial and military adventurism in the world today and like much of the western press, plays an active role in encouraging military interventionism, as you will see below.
The beauty of NPR is that it is a microcosm, a mirror reflection, of the entire US project and self-conception. The parallels between the views of NPR's
target demographic
, (middle-aged, college educated, whites who are left-of-center), and how this demographic views the US in the world, might otherwise seem uncanny. That is, of course, until we come to terms with the nature of media and NPR's role in it.
The role of media in shaping world events and our thinking about them is indisputable.
Whether news, entertainment, or advertising, media is much more than a mere reflection of reality - it is a reality creator.
Any ambivalence about this point should be quickly disabused by a cursory glance at the multi-billion dollar advertising industry, the primacy of seizing TV and radio stations in a coup attempt, that TV and radio stations are primary military targets in war, or the controls that governments and corporations impose on internet access. None of these would be important if media merely reflected a reality which was already a consensus. To the contrary, media is a consensus builder.