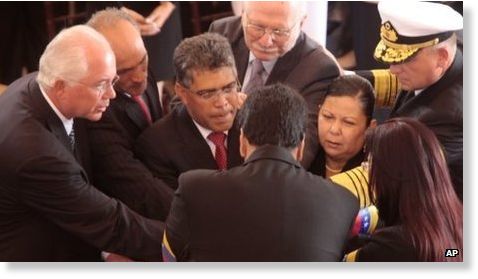 Venezuelan officials have said they will set up an inquiry to investigate suspicions that President Hugo Chavez was murdered by foreign agencies.
Oil Minister Rafael Ramirez told the BBC the United States and Israel were to blame for Mr Chavez's death.
He said he hoped the special commission would provide evidence.
Mr Chavez himself suggested he might have been injected by "foreign imperialist forces" after discovering he had cancer in 2011.
On an interview with BBC Mundo in Caracas, Mr Ramirez said he had no doubt that Mr Chavez's death was an act of confrontation and similar to Yasser Arafat's.
On the day Mr Chavez died, the Vice-President Nicolas Maduro also likened his case to the death of the Palestinian leader.