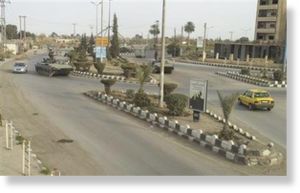 Amman - The U.N. Security Council, including Russia and China, threw its weight on Wednesday behind efforts by Kofi Annan to end the bloody conflict in Syria, providing a rare moment of global unity in the face of the year-long crisis.
In a statement approved by all its 15 members, the council threatened Syria with unspecified "further steps" if it failed to comply with Annan's peace plan, which calls for a ceasefire and demands swift access for aid agencies.
Although the original statement was diluted at Russia's demand, editing out any specific ultimatums, the fact that all world powers signed up to the proposal dealt a serious diplomatic blow to President Bashar al-Assad as he battles a popular uprising.
"To President Assad and his regime we say, along with the rest of the international community: take this path, commit to it, or face increasing pressure and isolation," U.S. Secretary of State Hillary Clinton said in Washington.
The conflict spilled over Syria's borders late on Wednesday when several shells hit the Lebanese border village of al-Qaa and nearby fields, injuring one person, residents said.
Al-Qaa, 10 km (six miles) from the Syrian border, has been the first stop for many of the 7,000 Syrian refugees who have fled fighting into Lebanon.
Refugees complain that they are pursued by Syrian forces, who have often fired across the border, but al-Qaa residents said this was the first time artillery has been used.