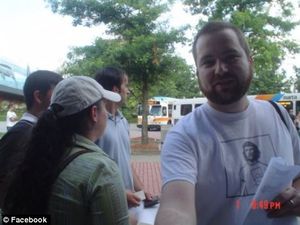 The true identity of internationally renowned blogger 'A Gay Girl in Damascus' has been revealed as a 40-year-old American man.
Tom MacMaster, a student at the University of Edinburgh, wrote an apology on the blog today, confessing that the entire thing was a hoax.
His admission came after days of questioning and pressure by suspicious readers who did not buy the story that 'blogger' Amina Arraf, a lesbian Syrian-American living in Damascus, had been arrested.
In his post today MacMaster, writing from Istanbul in Turkey where he is on holiday with his wife Britta Froelicher, admitted his narrative was fictional.
But he insisted the blog, popular with thousands around the world, 'created an important voice for issues I feel strongly about'.
He claimed he had never expected so much attention.