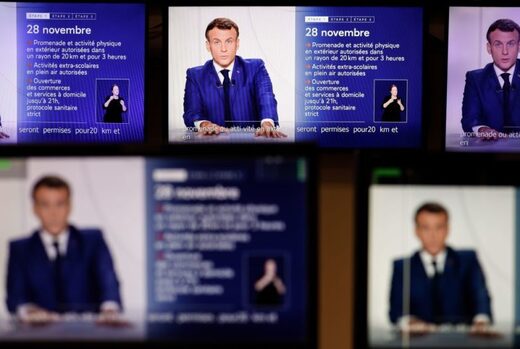 Politicians whom the gods wish to destroy, they first make ridiculous. On Tuesday evening, as the deaths attributed to COVID-19 reached 50,000, Emmanuel Macron, president of the Republic, again commandeered French television channels to announce his latest strategy to end the national lockdown.
He claimed to be making himself perfectly clear as his timetable for ending lockdown was conditioned by the subjunctive. The big give was that from Saturday, we are to be allowed to spend three hours daily outside, and to venture 20km, or 12.5 miles, (no more) from our front doors. (This will be a relief to a friend in the Dordogne who was 'verbalisé' by the flics last week when she was discovered 1.2km (three-quarters of a mile) from her house, 200 meters (an eighth of a mile) more than permitted.)
From December 15, cinemas, theaters and discotheques may open, and the lockdown will officially end, although with a sting.
There will be a national curfew from 9 p.m. to 7 a.m. The nightclubs will have to close at night. So, less to that than meets the eye. And the hated 'attestations de déplacement dérogatoire' (permits to leave home) may finally end.