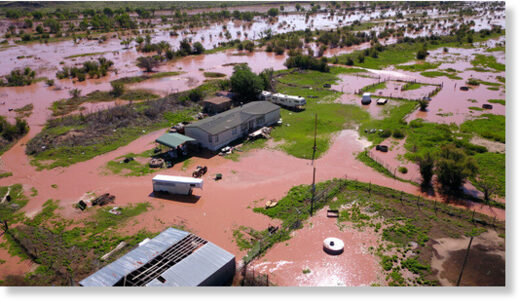 Dozens of families who live near the Canadian River in Valle De Oro are facing a potential tragedy, as the Canadian River has overflowed its banks, triggering widespread flooding.
Several people and livestock have already been evacuated.
"Well, I wasn't expecting to see the river right here in my backyard but here it is," said J.J. Garcia, a resident of Valle De Oro.
The origin of the Canadian River Flood Waters comes from a 1-in-500-year rain event that fell south of San Jon, NM earlier last week. That storm brought 10" of rain fell in less than 12 hours.
The river is currently at nine feet and continuing to rise.
"It has gone over the banks before but not this bad. Our neighbors have been here 40-plus years and they say this is about the first time they have seen this," Garcia said.
With more rain in the forecast, residents of Valle de Oro are concerned about what will happen to the land they call home.
"So far we are looking at five or six houses that have been evacuated, including cattle.