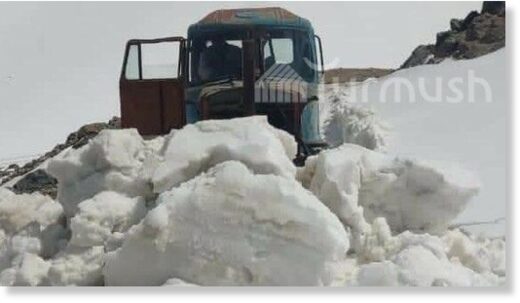 It has been raining in Issyk-Kul for three consecutive days and snowfalls have been reported in remote parts of the region, Turmush reports.
Bakyt Barktabasov, the head of the Issyk-Kul regional department of the Road Department under the Ministry of Transport and Communications, reported that the
Bokonbaeva-Tosor-Jyluu-Suu road is currently covered in snow. The Tosor Pass, in particular, has seen snow accumulate up to a meter in certain areas.
The road is commonly used by livestock breeders to move their cattle, but they have not yet moved to the pastures due to the weather conditions. To address the situation, two specialized vehicles are actively working to clear the roadway. Some sections of the road are still prone to rockfalls. Once the weather warms up, efforts will be made to stabilize the ground, remove stones, and open the road for cattle farmers, according to Barktabasov.
The highest parts of the Karakol-Enilchek road in Ak-Suu district are also experiencing snowfall. The latest information indicates a snow cover height of 40 cm in that area.
Additionally, the Sokok Pass in Ak-Shyirak, Jety-Oguz district, is currently having a snowstorm.
Despite the challenging weather conditions, the passage remains open.