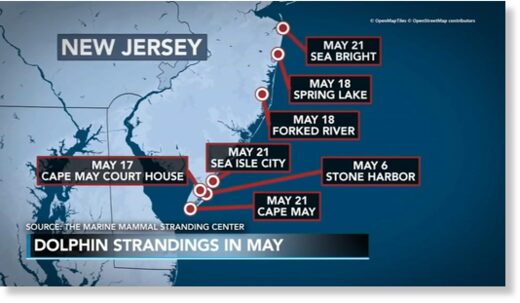 More dead marine mammals continue to be found along the New Jersey shoreline.
Data suggests it's happening at a much faster rate than in previous years.
It was Sunday morning when Lisa Strano was walking her dog and saw yet another dolphin stranded on the beach in Sea Isle City.
"It was completely motionless. It was clearly dead," said Strano.
It brought back the emotions of what she and many others felt when eight dolphins died after stranding themselves on the Sea Isle beach this past March.
"I've been coming to this beach my entire life and I've never seen animals wash up like that. So, it's unnerving," said Strano.
"It's a tragedy to see anything pass away like that, and it's especially concerning because they can't figure out what's going on," said Jim Rauh.
According to the Marine Mammal Stranding Center in Brigantine, the dolphin in Sea Isle on Sunday is one of seven dolphins or porpoises to be found stranded at the Jersey shore just this month.
But it's not just the events of this month or the stranding event in March that has people concerned.
There have been many other standings of dolphins and several whales at the Jersey shore this year.
This has led some to point the finger at offshore wind turbine projects in their pre-construction stages.
Despite these growing concerns, no connection has been proven between wind turbines and dead whales.
However, data from the Marine Mammal Stranding Center's
website
shows an apparent increase in strandings in New Jersey.
The total number of dolphins and whales stranded typically hovers close to 50 annually.
This year there have been 45 strandings with more than seven months to go.
"I think it's something more toxic in the water. You hear about the toxic seaweed in Florida so what's to say we don't have something like that?" said Strano.
"Whether or not it's going to tie back into the turbines, or if there's a flu going on, I hope they can identify it quickly," said Rauh.