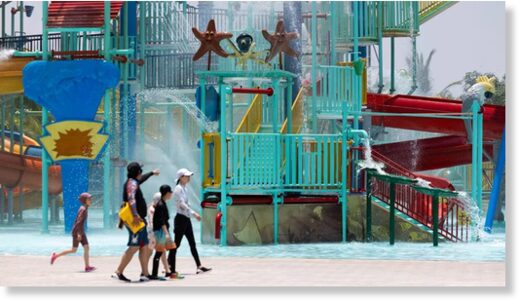 Record-breaking heat has blasted Southeast Asia over the past several weeks, causing deaths and hospitalizations, schools to close and farmers and business-owners to suffer economic losses.
In Vietnam, the temperature hit a record 44.2 degrees Celsius (111.5 F) on Sunday
. In Myanmar's central Magway region, it soared to 46 C (114.8 F).
Thailand's capital of Bangkok had its hottest day on record on Sunday, when the heat reached 41 C (105.8 F),
while in Laos, the temperature broke last month's national record to hit 43.5 C in Luang Prabang.
"The weather is horrible. I sweat a lot and was as wet as a drowned rat," said Do The Dang, an engineer from an aviation-related company in Hanoi, Vietnam's capital. He said it was still hot inside his office even though all the air conditioners were blasting at full capacity.
Authorities across the region have urged people to stay indoors during the hottest parts of the day.
In Myanmar, media reports said 61 people have died due to heat-related problems, although there was no official data on this, and Radio Free Asia could not verify the number.
(More
here
)