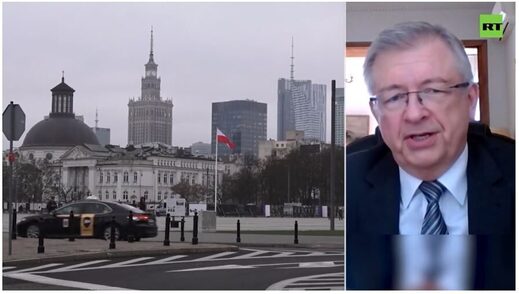 Authorities never actually bothered to investigate their claims, Sergey Andreyev told RT
Polish prosecutors confiscated the Russian embassy's bank account, supposedly as part of a money laundering and terrorism investigation, without presenting any actual charges or speaking to any Russian diplomats, Moscow's ambassador to Warsaw, Sergey Andreyev has claimed.
"We were asked no questions," Andreyev told RT on Thursday.
He explained that Warsaw froze the embassy's account at the Santander Bank in February 2022, when the Ukraine conflict escalated. When the freeze order expired on March 2 this year, "immediately all the money was transferred to the prosecutor's office [account] in another bank - of course, without consent - on suspicion that it was used for money-laundering and funding terrorism," the diplomat added.
The Polish authorities never presented the embassy with any actual charges, or showed that any investigative steps had actually been taken, simply
seizing the funds
from both the embassy and the trade representative's office. Santander then closed both accounts and said it had "ceased cooperation" with the Russian diplomats.
Revealing the seizure on Wednesday, Andreyev called it "a flagrant violation of the
Vienna Convention
on Diplomatic Relations." He added that the seized accounts contained "significant amounts" of both US dollars and Polish zlotys.
When the embassy complained to the Polish Foreign Ministry, they said it was a law enforcement matter, to be discussed with prosecutors and courts. Andreyev told RT this was "probably the first time" a Foreign Ministry has declared that complying with international law was not its job.
Poland has used the fact that the embassy was blocked from paying its bills to seize a recreational facility near Warsaw, and has moved to confiscate two more properties. The mayor of Warsaw has said he wanted one of them turned over to refugees from Ukraine.
The ambassador noted that Russia has responded by freezing the bank account of the Polish embassy in Moscow.
"The principle of reciprocity operates in international relations," Andreyev said. "In fact, it is probably the only thing in current circumstances that is holding back the irrepressible creativity of our Polish non-partners," who keep inventing new ways to be hostile to Russia.