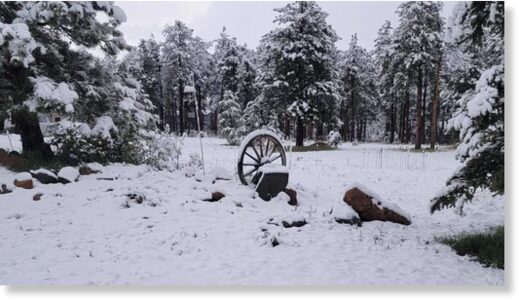 As was predicted,
a spring storm brought more than a foot of snow to Colorado this week.
According to the
National Weather Service
, the highest total was recorded in Blue Valley, near Idaho Springs, with 16.1 inches of snow landing in the area.
That being said, it's worth noting that the snowfall report is likely only tracking snowfall in populated areas found at lower elevations
.
Even more snow likely fell on Colorado's highest peaks.
Here's a look at how much snow fell at different places around the state:
Blue Valley: 16.1 inches
Silver Plume: 9.1 inches
Conifer: 7.5 inches
Highland Park: 6.9 inches
Kenosha Pass: 6.5 inches
Glendevey: 6.4 inches
Aspen Springs: 6 inches
Aspen Park: 6 inches
Pine Junction: 5.8 inches
Evergreen: 5.8 inches
Rollinsville: 5.7 inches
Lawson: 5.6 inches
Kittredge: 5.5 inches
Floyd Hill: 5.3 inches
Grant: 5 inches
Pinecliffe: 4.9 inches
Bailey: 4.3 inches
Nederland: 3.5 inches
Updates to snowfall totals can be
found on this map.