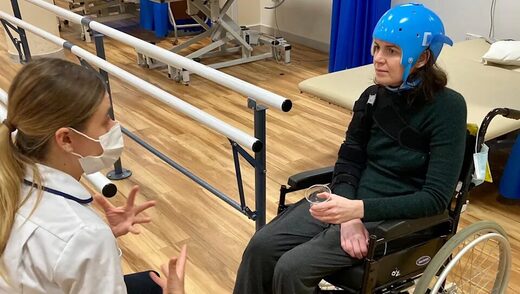 An Australian actress living overseas has received an influx of support after suffering from a rare side effect of the Covid-19 vaccine.
Melle Stewart,
a healthy 40-year-old Australian actress living in London, was "happy" to receive her first dose
of the AstraZeneca Covid vaccine.
According to GoFundMe,
"she has been and continues to be an advocate for vaccination"
, however her life was turned upside down on June 8, two weeks after her first dose.

Comment: This reveals how the propaganda has managed to override people's critical thinking and survival instincts.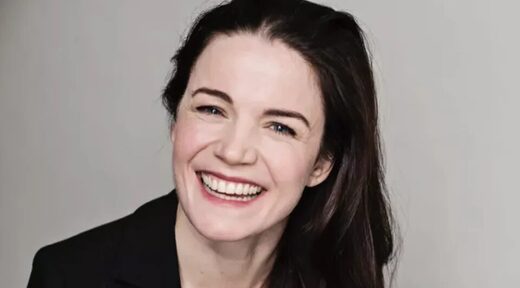 Waking up at midnight two weeks after her first vaccination, Ms Stewart had a "strange feeling" on the right side of her body. When she tried to get out of bed, she collapsed and was rushed to hospital.
Her state deteriorated quickly; she lost all movement on the right side of her body and the ability to speak, and she began having seizures.
Ms Stewart was diagnosed with
Vaccine-Induced Thrombocytopenia Thrombosis (VITT), a rare condition which is linked to the AstraZeneca vaccine
.
In the Therapeutic Goods Administration's most recent
Covid-19 vaccine safety monitoring and reporting
, it stated there have been approximately 32.7 million doses administered in Australia.
There have also been
nine reported deaths linked to immunisation, of the 612 deaths reviewed
.

Comment: We know that the deaths and injuries caused by the injections are massively underreported.


"The deaths linked to immunisation occurred after the first dose of Vaxzevria (AstraZeneca) - 8 were TTS cases and one was a case of immune thrombocytopenia (ITP)," the TGA said.
The TGA notes the benefits of a Covid-19 vaccine "far outweigh" the potential risks of vaccination.
Comment:
This is simply untrue because the vast majority of people are at next to no risk from the relatively harmless coronavirus however they
are
at a risk from vaccine injury and death; even if these 'risks' are rare, they're still higher than the risk of natural infection. Moreover, natural infection confers
superior
immunity. Young people appear to be at an even greater risk from the injections:
Why is the Government hellbent on pushing unnecessary vaccinations on our children?
Ms Stewart suffered a severe stroke, which caused two large clots in the main veins in her brain, which caused a secondary bleed in her frontal lobe.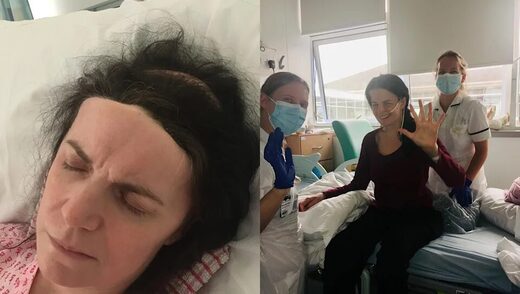 The actress
was in an induced coma for three weeks, she was ventilated and received blood transfusions and put on anti-clotting and anti-seizure medication
.
While she was at hospital in London, neurosurgeons had to remove a large part of Ms Stewart's skull to relieve the pressure on her brain.
Ms Stewart spent four and a half weeks recovering in the ICU and was then transferred to an Acute Stroke Unit to commence her rehabilitation, before being taken to a rehabilitation hospital in London for more "intensive treatment".
According to the GoFundMe,
she was fit and healthy before
she had the stroke.
"The devastation caused by VITT has been profound,' it said.
"Prior to vaccination, Melle was a fit, healthy 40-year-old, a successful professional actress, dancer and singer who had never been in hospital before."
However, at this stage, Ms Stewart
will be in hospital until 2022
. She is learning how to walk, talk and move her right arm and hand.
"Melle, a vibrant storyteller with an undying passion for language and expression,
is now re-learning how to make sounds, form words and speak again
," the GoFundMe went on.
"Her road to recovery will be a long one including further surgery to fit a titanium plate to replace the portion of her skull previously removed during surgery."
Due to the
Covid-19 pandemic and travel
restrictions, Ms Stewart and her husband Ben Lewis have not been able to be with their families back in Australia.
For the past few months, Mr Lewis has been his wife's "sole support" and
it has been difficult dealing with the life-changing events without friends or family
.
Ms Stewart has been unable to work since the stroke, while Mr Lewis has been able to work for part of her recovery, in order to care for her.
Both of them work in the performing arts and have been impacted by the pandemic, now
they are in a "financially vulnerable position"
.
In addition to needing to pay for the rehabilitation therapy,
the two will need to relocate and make modifications to their home to accomodate for Ms Stewart's needs
.
The two also hope to travel back to Australia when Ms Stewart is strong enough and it is safe to do so.
The GoFundMe set up by the couples' families has raised over $168,000 so far.