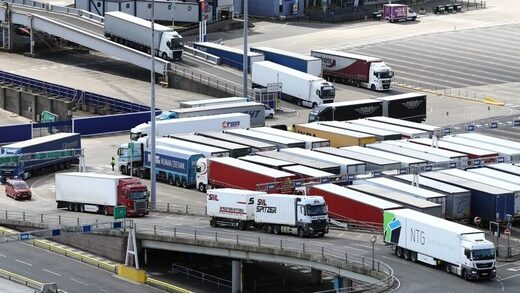 Britain's biggest supplier of influenza vaccines has said it was postponing deliveries due to a Brexit-related shortage of lorry drivers, delaying the government's winter inoculation campaign.
Medics say the campaign offering free flu vaccines to more than 35 million people is even more important this year,
after lockdowns
for the coronavirus pandemic
suppressed the circulation of flu last year
.
Comment:
Even according to official data in the US, flu injections are more considered to be ineffective in 91% of seniors, and, in the UK in 2018, it was found to have
contributed
to at least 50,000 deaths (bear in mind vaccine injury and death is massively under reported), and so any delay in its roll out is likely to be a good thing. It's also possible that,
as with
the coronavirus vaccine, a significant number could be
dumped
anyway over a lack of demand.
Note that it was predicted
earlier
this year that by preventing circulation of viruses lockdowns would likely worsen the flu situation at the end of the year, and yet governments continued to enforce the harsh restrictions despite evidence arising in the summer that it was already creating unforeseen, and potentially deadly, consequences, such as the
surge
in RSV cases in children in New Zealand and the US.
Further, billions of people are now 17+ months into rolling lockdowns that will inevitably have weakened their immune systems and a significant number of those are further compromised by the experimental vaccines:
The Inanity of RNA Vaccines For COVID-19
The medical supplier Seqirus confirmed
delays of up to two weeks in England and Wales
, blaming "unforeseen challenges linked with road freight delays".
For weeks Britain has been grappling with a shortage of lorry drivers, after a post-Brexit exodus of drivers from the European Union.
The pandemic has also
caused a large backlog of tests for new UK drivers
.
The National Health Service has started inviting those eligible for a free flu jab to book an appointment from this month, but Seqirus instructed practitioners to wait for certainty on its supplies.
The development comes after NHS doctors were forced to cancel routine blood tests due to a shortage of test tubes.
"That this
appears to be stemming from similar issues around freight capacity and transportation
is incredibly concerning, and we must ask the government exactly what it is doing to urgently address this," said Richard Vautrey of the British Medical Association.
The winter flu campaign is set to be the biggest yet in Britain, targeting all secondary school students and adults over 50, among others.
There was no immediate official comment but a senior member of the Joint Committee on Vaccination and Immunisation, which advises the government on inoculations including for Covid-19 and flu, expressed concern.
"Clearly influenza immunisation this year is really important and the reason it's so important is because of lockdowns,
we've had very low circulating influenza levels last winter
," Professor Anthony Harnden told BBC television.
Comment:
That's partly true, it's also true that large numbers of flu cases were instead wrongly
registered
as coronavirus.
"So it's really important to get the influenza immunisation and really important to get it as soon as possible."