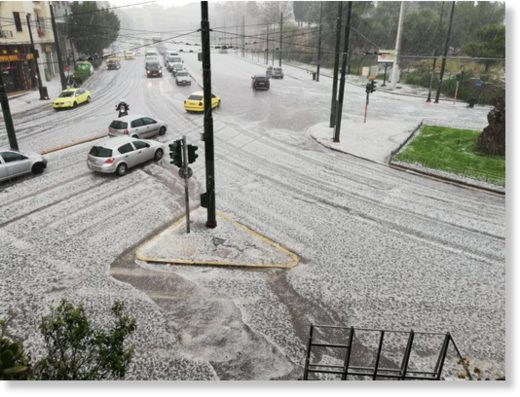 Hailstorm and torrential rainfall hit many parts of Athens on Monday afternoon,
as adverse weather conditions continue to affect wide swaths of the country. The nation has experienced inclement, and at times severe, weather for the past week.
The hailstorm affected central parts of the Greek capital,
in an event which is very rare for downtown Athenians.
The heavy rainfall and
huge amounts of hail which fell during a short period of time (less than fifteen minutes)
caused traffic jams in most of the city's central avenues. The violent hailstorm occurred right at rush hour, when most people return home from work.
The meteorological forecast suggests that
unstable weather conditions will continue for many parts of the country and especially in northern Greece during the coming days.