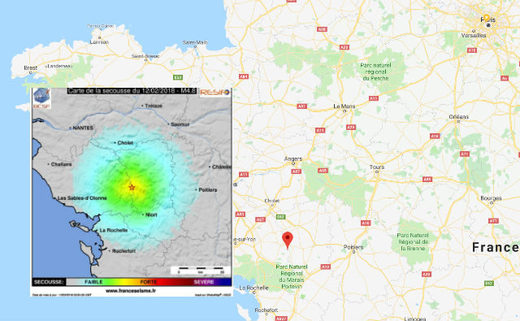 Residents in western France were given a fairly rude awakening at 4am on Monday morning when they were shaken from their sleep by an earthquake measuring 4.8 magnitude.
The epicentre of the tremor, which didn't cause any injuries or fatalities, was reported to have been close to the town of Saint-Hilaire-de-Voust in the Vendée department of western France, which stands close to the department of Deux-Sèvres.
Residents in the area were left trembling and reports suggest the tremors were felt as far away as the city of Poitiers, 100 kilometres from the epicentre.
A baker in the town of Busseau told RMC radio: "I was in my bakery and then it was like a big explosion, a terrible shock, we thought a truck had crashed into a wall."
A baker in the town of Châtaigneraie added: "I was scared. I thought it was an explosion. There was a 'boom' for a few seconds, maybe five seconds. It's happened before but it's never been that powerful."
The mayor of the town of 2,700 residents Nicolas Maupetit told France Info radio: "I thought there had been an accident perhaps a lorry which had crashed into a house nearby. I felt the house shake. I grabbed my telephone in case people started calling. I have to say my heart was racing."
While it might have scared residents the earthquake did not provoke any real structural damage.
Western France is regularly hit by earthquakes, particularly Brittany but most are not powerful enough to be detected.
Seismologist Eric Beucler, who is based in western France told France Info: "We have a earthquake every four days but no one feels it.
The biggest took place in Oléron in September 1972, it was 4.9 to 5.
"We have a big one every two years. This was so powerful that we couldn't miss it."
Rémy Bossu, the head of the European-Mediterranean Seismological Centre (EMSC), says it's all because of the African plate.
"In short, Brittany is one of the seismically active regions in metropolitan France," Bossu told The Local.
"All the seismicity in metropolitan France is linked to the push northward of the African plate. This push reactivates old faults in Brittany and in other parts of France (the Alps, the Pyrénees, the Massif Central, and the Rhenan rift)."
He pointed out that over the last 50 years Brittany has been particularly hit by quakes compared to the rest of France (see map below).
Bossu says that while there has been no history of very large quakes in Brittany, that doesn't mean it couldn't happen.
"One cannot exclude the possibility of a huge earthquake in Brittany, but the thing is that nobody knows when it would strike - you just can't predict when they strike," he said.