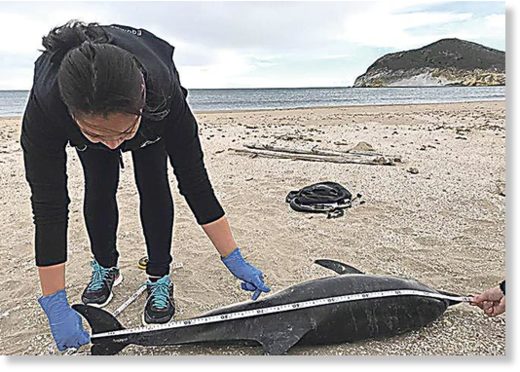 Five dolphins have been left stranded on the Almeria coast since the turn of the year.
According to animal rescue agency Equinac, in the first month of 2018, five dolphins, one of them common, have been found dead, washed up on various parts of Almeria's coastline.
The animals were reportedly found on the Playa de los Genoveses, Nijar, Almerimar, El Ejido, Roquetas, Retamar and in the Cabo de Gata.
The numbers follow an alarming trend in the region, which saw more than

155 animals stranded on Almerian beaches between 2013 and 2015.

And data released by Equinac earlier this year revealed that an estimated

80 sea animals, including dolphins, whales and sea turtles, died on Almerian shores last year.
According to animal conservationists quoted in Spanish media, the majority of strandings are not produced by natural causes.
In the hope of saving more animals in the future, Equinac has revealed what to do when stumbling across a stranded animal.
They strongly advise not to try and re-introduce it into the sea straight away as it has obviously become beached for a reason, while they also recommend immediately calling 112 to report the stranding.
In a post on social meda, the organisation said: "When a dolphin appears on the beach, everyone wants to take pictures with him.
"We have had scenarios in which we have been surrounded by hundreds of people taking pictures and children who want to touch it.
"They are so delicate that they stop breathing and die of stress, we must let ourselves work as quietly as possible."