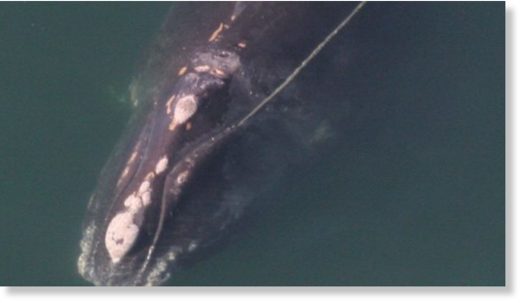 Another North Atlantic right whale has been found dead, the first to be recorded in 2018 and the 18th since last year.
The whale was reportedly found off the coast of Virginia on Jan. 22.
Jennifer Goebel, a spokesperson for the U.S. National Oceanic and Atmospheric Administration (NOAA), confirmed the information to Global News on Thursday.
According to NOAA, the remains of the whale appeared to be wrapped in a fishing line.
Based on past experience with entangled whales the NOAA believe the whale was alive and swimming when it encountered the line.
Canada implements new restrictions
The discovery of the whale comes only two days after the federal fisheries minister announced four measures aimed at protecting right whales from entanglement in fishing gear.
"Protecting Canada's endangered whales from further harm is a responsibility that weighs heavily on all of us," Dominic LeBlanc said Tuesday in Moncton.
LeBlanc said four new rules for the southern Gulf of St. Lawrence snow crab fishery will greatly reduce the amount of rope that can be left floating on the surface when crab pots are set - to no more than 3.7 metres.
"In addition, no rope attaching a crab trap to a primary buoy can remain floating on the surface of the water after the crab trap has been set," he said.