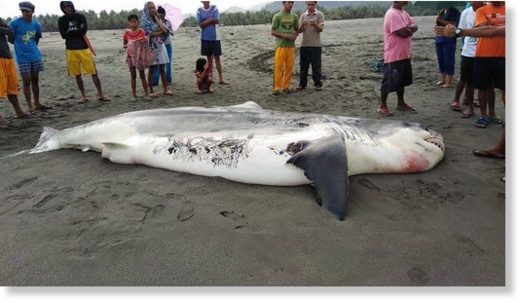 Fishermen have been warned to take care after a huge Great White Shark washed up off the east coast of Luzon Island.
The 17-feet-long monster was reported in the town of Dipaculao, in Aurora province, today (Wednesday, January 24).
The species is a rare visitor to the warm seas of the Philippines, with only four sightings on record.
Nonetheless, it is a protected species by law.
Eddie Fabrigas Rebueno, of the Dipaculao Municipal Disaster Risk Reduction and Management Office, said the find was reported to his office at 6.30am this morning.
He said the shark, a female, did not show any sign of serious injury apart from some bruising on her snout and some missing teeth.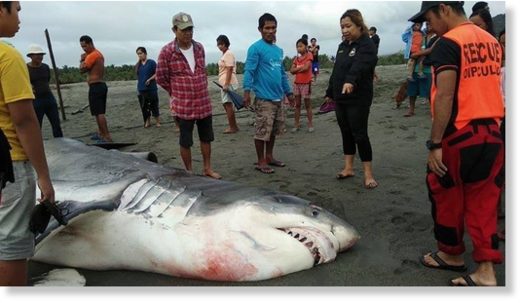 It has now been buried after blood and tissue samples were sent to the Municipal Fisheries Agriculture Office, which will investigate the cause of death.
Mr Rebueno's boss, Arturo Molina, said that coastal village chiefs had been told of the find. They were urged to advise fishermen to be cautious about venturing into deep waters. The Bureau of Fisheries and Aquatic Resources (BFAR) is now investigating if any other Great White Sharks are lurking off the coast of Aurora.
"We are now consulting with the BFAR if there is indeed a possibility that the dead shark found in the shoreline could have been part of a flock of sharks," he added. [The collective noun for sharks is actually 'shiver', 'shoal' or 'school'.]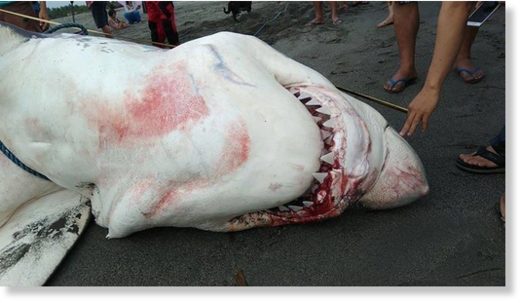 In March last year, a dead humpback whale was found washed up in the same town.
In August 2015,
we reported
how resort owners in Misamis were advised to adopt precautionary measures due to a rash of shark sightings in the waters off the Mindanao coast.