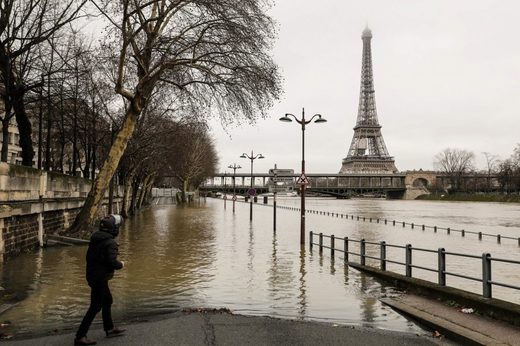 The Seine River in Paris is expected to rise farther out of its banks through this weekend despite northeastern France catching a break from heavy rain.
The flooding has already
inundated roads, railways and walking paths in Paris along the river
, according to
The Local
.
The river is projected to challenge the levels recorded during the June 2016 flooding
, during which the Louvre Museum was closed for four days as workers evacuated 35,000 pieces of art.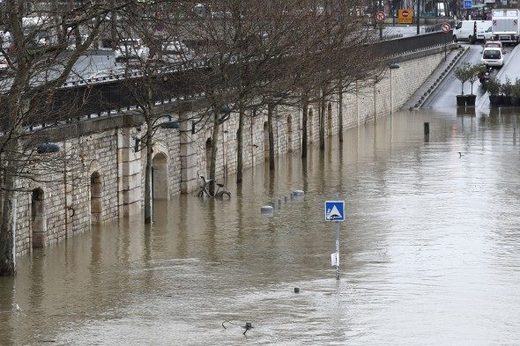 France's most visited museum,
the Louvre, made the decision on Wednesday
to close the lower level of the Department of Arts of the Islam through at least Sunday as a precaution.
The level of the Seine River reached 5.6 meters (18.3 feet) on Thursday night and is expected to rise between 5.8 and 6.2 meters (19 and 20.3 feet) this weekend,
according to France's Ministry of Ecological and Solidarity Transition
.
During the
June 2016 flood
, a crest of 6.1 meters (20 feet) was recorded.
The river's all-time highest crest is 8.62 meters (28.3 feet) from 28 January 1910.

Comment: These flood events are becoming an annual occurrence for Europe.


The Seine is one of many rivers out of their banks after nearly
every
major weather station across France measured above-normal rainfall this month
.
The worst and most widespread flooding is occurring across the northeast.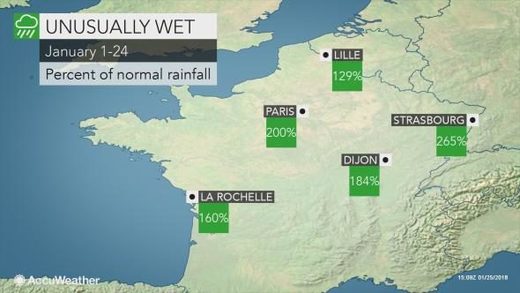 Paris received 102.1 mm (4.02 inches) through the first 24 days of January, which is double the normal rainfall that typically falls during this time.
The Seine is expected to rise farther as flood waters upstream and in its tributaries flow down to Paris.
Rain pushing south of Paris into Thursday night can cause additional water to filter into the Seine and its tributaries. However,
drier weather will follow
and allow flood waters to run their course downstream.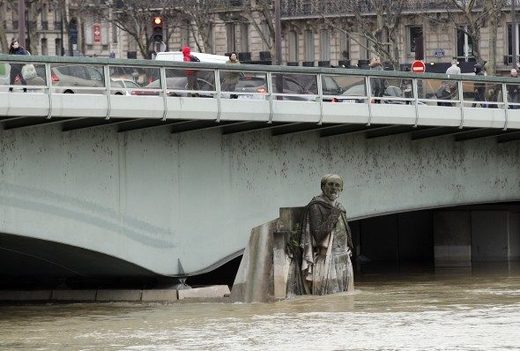 "Generally dry conditions will prevail across the majority of France this weekend with above-average temperatures expected for many places, including Paris, Nantes and down into Lyon," AccuWeather Meteorologist Rob Richards said.
A spotty shower may occasionally dot northeastern France Saturday night into Monday, but any rainfall will be light and is not expected to increase river levels.
Latest indications keep heavy rain away from northern France through at least the end of the month.
Flooding along the Seine has also halted river traffic, The Local reported.
South of Paris, Villeneuve-Saint-Georges along the banks of the Seine has been one of the towns hit hardest by flooding. About 150 residents have evacuated as flood waters submerged streets and cars.