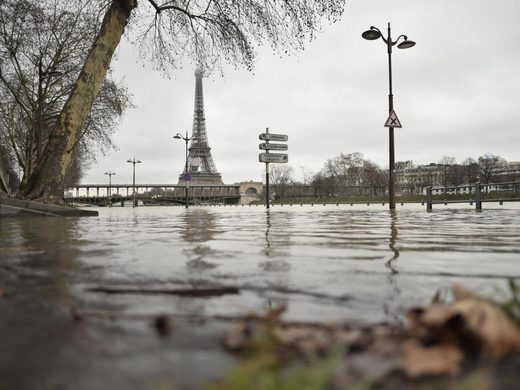 Water rises to at least 3.3 metres above the normal level
Parisians have been urged to use "extreme caution" after the River Seine burst its banks and water levels rose at least 3.3 metres above the normal level.
Authorities closed several roads near the French's capital's City Hall and cancelled boat cruises as forecasters warned that the water is expected to keep rising in the coming days.
Expected to reach its peak later this week, fears are mounting that it could surpass the water level recorded in 2016,
when the worst flooding seen in Paris for decades led to the closure of several monuments and tourist attractions including the Louvre.
Railway company SNCF said that six train stations running alongside the Seine will close for several days.
Tourists express disappointment at some of the closures, but were on the whole understanding about the closures.
"We are disappointed because we thought we were going on a cruise on the Seine," said Costanza Della Cananea, an Italian tourist visiting Paris.
"It was the first time we were going to do it."
Marina Franchi, a visitor from the southern French city of Marseille, regretted not being able to make a dinner cruise.
"It is a part of our heritage. It would have been nice to visit Paris by night on the Seine," she said.