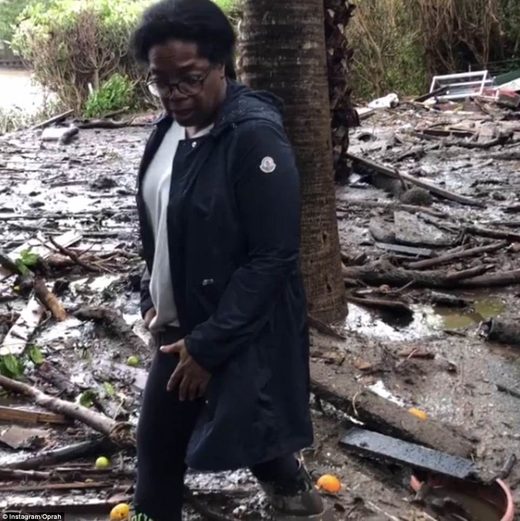 13 years to the day since the
La Conchita landslide
killed 10 people following a deluge, the same stretch of southern California between Santa Barbara and Los Angeles was hit with another deluge that produced instant and devastating mudflows. With the area torched by the Thomas Wildfire the preceding month, the heavy rain that fell on 9-10 January produced instant run-off from higher ground that washed away everything in its path, all the way down to the ocean.
As more dead bodies are found in the disaster zone, local authorities have gradually increased the death toll - which currently stands at 20 - while they report that another 8 people remain missing. The surge also injured about 200 people and destroyed or damaged about 500 homes in Montecito, Santa Barbara County - located just a few kilometers from La Conchita - and washed out a 30-mile stretch of the 101 Freeway.
From above, the debris flow appears to have converted the wealthy neighborhood - which is home to mega-stars like Oprah and Ellen - into a brown swamp.
This video from Burbank, in neighboring Los Angeles County, captures someone escaping the debris flow as it roared down the mountains:
This video shows the moment the wall of mud plowed through Montecito:
Occurring just two days after her critically-acclaimed
speech at the Golden Globes awards
- widely touted as signalling her interest in running for US president in 2020 - the mudflow caused minor damage to Oprah's Montecito mansion and left her palatial grounds strewn with debris. Wake up, Oprah! There are more important things than #MeToo!
From fire to mud and back to fire again, Oprah followed-up the next day with
footage of a roaring fire close by
, caused by a ruptured gas line.
Many of the homes washed away or damaged in the deluge had been torched or damaged in the Thomas Wildfire -
California's largest-ever
. In fact, the 10 January deluge finally rendered that wildfire '100% contained'.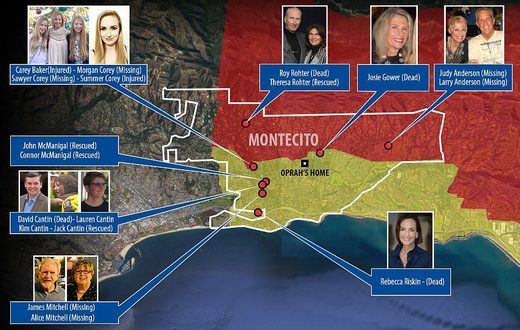 From record drought up to 2016, followed by
record rainfalls
and
snowfalls
in early 2017, then
record wildfires
in late 2017, this latest natural disaster compounds the hammering Mother Nature has given southern California of late.
For people like California governor Jerry Brown, the increasingly volatile environment confirms what they always knew: man-made global warming is real, so we'd better get a move on with 'saving the planet'.
For 'denialists', it's much ado about nothing.
For the rest of us, it's climate change alright, and it's going to get worse. It's natural, however, so while there's nothing anyone can do to stop it, you might want to take stock of your surroundings and consider preparing for further natural disasters, or even relocating.
Especially if you live in southern California
.