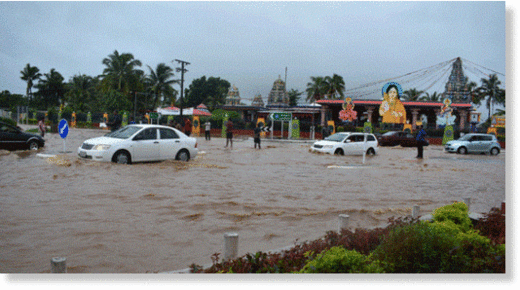 Rain water flooded the streets of Lautoka City and most parts of the Western Division, forcing authorities to issue an advisory for the traveling public.
Reports of flash flooding were recorded in Rakiraki, Tavua, Ba, Nadi and Lautoka during yesterday's heavy downpour.
The Sugar City had drains clogged up, causing water to spill on to main streets.
Yesterday, motorists had to manoeuvre their vehicles through floodwaters during the pouring rain.
Lautoka City Council CEO Jone Nakauvadra said drainage was an issue for the city.
"The problem with us is we are located downstream so all of the water flows through our drainage systems in town towards the sea," he said.
"That is why when a heavy downpour happens like today (yesterday), most of our drainage systems will get overwhelmed.
"The rain has been consistent throughout since the morning so the flash flooding in our streets and residential areas was bound to happen."
In Rakiraki, floodwaters inundated the Vaileka market.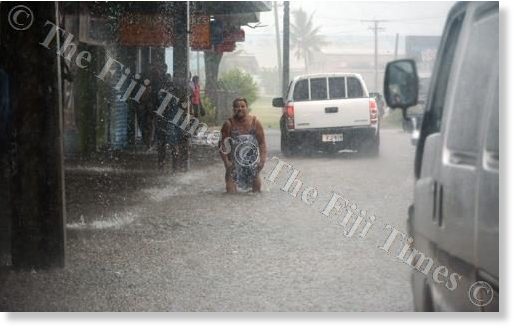 Rakiraki Chamber of Commerce president George Shiu Raj said every time the rural centre experienced heavy showers, their one fear was flooding.
"The last time we had huge floods, in 2016, it cost the business community $250,000 in damage to stock alone," he said.
"This is not taking into account loss of business, wages, damage to equipment and premises.
"This is our greatest fear and we will be holding an emergency meeting tomorrow for the chamber to discuss this issue and put forward suggestions to the Rakiraki Town Council and to Government on how this issue could be better addressed.
"We know that dredging is one solution and we need to look at costs involved."
Mr Raj added that apart from flooding in the central business district area, the Naqoro Flats were under water and other low lying areas had also been inundated with floodwater.
An advisory was issued by the Fiji Police Force after a number of flash flood reports across the Western Division.
West divisional police commander Senior Superintendent of Police Abdul Khan said they had to ask vehicle owners not to drive through flooded areas, and to inform children not to swim in these areas.
According to police, officers were deployed to advise people to move and secure their properties and livestock while it was still daylight, especially if they lived in a flood-prone area.
The Fiji Roads Authority also issued an advisory to the travelling public in the Western Division. The authority confirmed surface flooding was recorded along the Kings Rd in Lautoka, Ba, Tavua and Rakiraki.
"Members of the public are advised to please be cautious when accessing side roads and low lying areas prone to flooding," the FRA said in a statement.
"Please do not drive through flooded roads, find alternative routes where possible."