Flood alerts in 30 departments as rivers burst banks Flood levels in Paris are expected to match the 6.10m reached in June 2016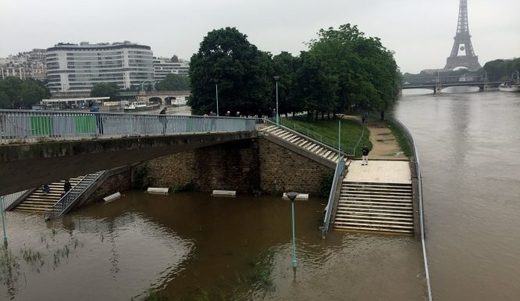 Seine and Rhine among rivers that have flooded, and while current drier conditions have offered respite, more rain is forecast from Thursday
The Seine in Paris has breached its banks in several areas after weeks of heavy rains in and around the French capital, reaching 4.82m above normal at 6am on Tuesday.
The river is expected to reach the 2016 high-water level of 6.10m by the end of the week.
Paris and the
petite couronne
- the departments Hauts-de-Seine, Seine-Saint-Denis and Val-de-Marne that immediately surround the capital - have been placed on orange alert for river floods.
Another 26 departments are on orange alert as rivers break their banks following weeks of rain - the Ain, Calvados, Charente, Charente-Maritime, Dordogne, Doubs, Eure, Gironde, Isère, Jura, Lot-et-Garonne, Haute-Marne, Meurthe-et-Moselle, Meuse, Nièvre, Oise, Orne, Rhône, Haute-Saône, Savoie, Seine-Maritime, Seine-et-Marne, Yvelines, Vosges, Yonne, and Val-d'Oise - were included in the latest bulletin from Meteo France.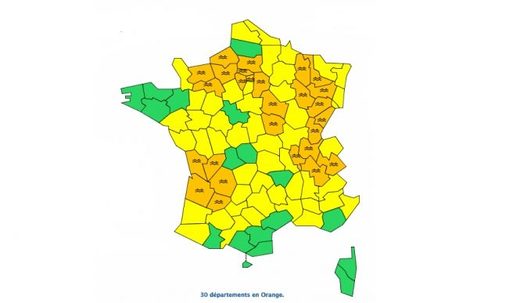 Although Doubs and Jura remain on orange alert for river flooding, water levels there have eased slightly, after alerts in the two eastern departments were yesterday briefly raised to red after the river Loue overflowed. Several schools remain closed in the Doubs on Tuesday, while floods have caused extensive damage in the town of Ornans.
Floods monitor Vigicrues said that although 'damaging overflows' are expected along parts of numerous rivers, drier conditions upstream mean that water levels are currently falling slightly. But it warned that the lull is set to be brief, with more heavy rain forecast for Thursday.
On Monday, some 50 inhabitants of La-Rivière-Saint-Sauveur in Calvados were evacuated, and the centre of Pont-L' Evêque was flooded, the préfecture said. Ten roads in the department were cut off by rising river water.
Meanwhile,
tap water in 62 municipalities of the Seine-Maritime is currently considered unfit to drink
due to the recent rain, franceinfo reports.
In the east, the level of the Rhine has breached its banks due to a combination of heavy rainfall and snowmelt. The Erstein polder flood retention area in the Bas-Rhin - which is capable to holding 7.8million m3 of water from the river - has been closed to the public.
The Kehl-Strasbourg dam, which can hold 37 million cubic metres of water in an area of 700 hectares, has also been closed to the public.