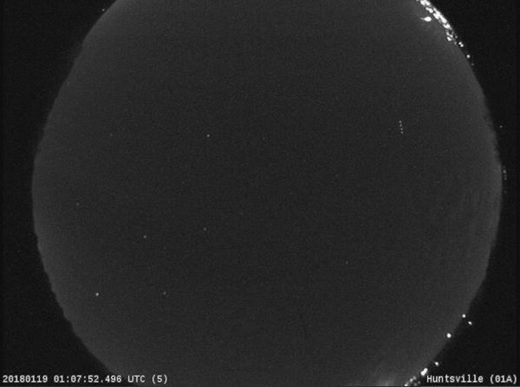 Did you see it?
A fireball lit up the sky over Tennessee and North Alabama Thursday evening, January 18th.
Dr. Bill Cooke from NASA's Meteoroid Environment Office tells us it was actually high above Missouri and still bright enough to be seen as far away as Florence, Alabama and Franklin County, Tennessee.
From Dr. Cooke:
Last evening numerous eyewitnesses in the Midwestern states (some as far south as Alabama) reported seeing a bright meteor at 7:08 PM Central Standard Time (2018 January 19 01:07 UTC). It was also detected - at extreme range - by 3 NASA cameras in the Southeast.

Analysis of data provided by two of these systems (located at MSFC and in Tullahoma, TN) place the first sighting of the fireball at 58 miles above the Missouri town of Cedar Hill, located south of St. Louis. The meteor traveled slightly north of west at 45,000 miles per hour, finally ablating some 47 miles above I-44, near the Highway 50 exit. The brightness (which was that of a crescent Moon for those near St. Louis), orbit, and high ablation altitude of this object suggest that it was a fragment of a Jupiter family comet about 5 inches in diameter and weighing just over 5 pounds.